Volkswagen Tiguan Tire Size

Understanding the Volkswagen Tiguan tire size is a useful introduction into the overall dynamics of the model. Through the years, Volkswagen has made the SUV more off-road ready as well as more poised for on-road travel near Littleton, Parker, and Castle Rock, Colorado.
As the capability of the vehicle has increased, more drivers have found the VW Tiguan to be an ideal choice for their everyday life. At McDonald Volkswagen, we want to keep you informed about any potential model. So our Volkswagen Tiguan overview will deliver specific insight such as the tire size, the off-roading capabilities, and technologies that improve on-road stability!
Volkswagen Tiguan Tire and Wheel Size: 17 Inches to 20 Inches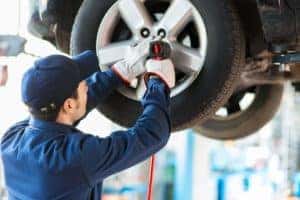 As with many other aspects of the 2020 Volkswagen Tiguan, you have the option to customize the look and size of your tires and wheels. The smaller the size, the more nimble and agile your SUV will feel while on the open road. Going for a larger, sturdier pair adds a bit of stability for off-road travel or when dealing with inclement weather.
Here's a breakdown of the five available tire sizes along with the style they come in:
17-inch 10-spoke alloy wheels
17-inch wide multi-spoke 2-tone machined alloy wheels
19-inch 5-spoke gray alloy wheels
20-inch 2-tone machined alloy wheels
20-inch Black machined alloy wheels
Added Traction for Your VW Tiguan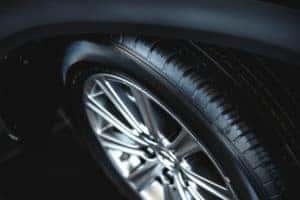 While the tire size and wheels that your VW Tiguan utilizes will play some role in on-road traction, Volkswagen introduces technology to further improve grip. Whether you're moving at high speeds on twisting roads or are making your way through a sleet and snow storm, the SUV will remain poised and easy to control.
The 4MOTION® all-wheel drive system is highly intuitive. By studying road conditions, your direction, your speed, and other variables, the system will dictate how much power is being distributed to each wheel.
So in practice, if you're making a long, sweeping right turn, the outside or left-side tires will be given more power to keep your SUV in line.
Choosing Your Driving Mode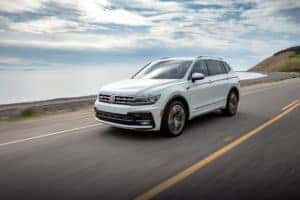 Another system that makes your Volkswagen Tiguan a go-anywhere, do-anything companion is the available drive modes. There are four distinct options to choose from. Moving from one drive mode to the next is as easy as turning a knob located along the dashboard of your vehicle.
On-Road Mode is the one you'll spend the most time in as you commute to work or drop the kids off at practice. For navigating trails or rocky paths, you can choose between the standard Off-Road Mode or the Off-Road Custom Mode, which can be set to your preferences.
Finally, Snow Mode is for when the weather gets treacherous during those long winter months.
Choosing the Tire Size of Your VW Tiguan!
When customizing the Volkswagen Tiguan to be your ideal daily driver around Littleton, Parker, and Castle Rock, CO, tire size is one of many decisions to be made. At McDonald Volkswagen, we'll be happy to show you each tire variation in person! Contact us today with any questions you may have.