Volkswagen Atlas Maintenance Schedule

While the VW Atlas is one of the most dependable SUVs on the road today, it does rely on your keeping up with routine maintenance.
From regular oil changes to replacing the occasional spark plug, a tight maintenance schedule is the best way to ensure ongoing, optimal performance.
At McDonald Volkswagen, we're committed to helping Parker, Littleton, and Castle Rock drivers with all their automotive service needs. That's why we've created this easy-to-follow VW Atlas maintenance schedule.  Now, you'll never have to worry about missing an important milestone!
Schedule your service appointment here!
Understanding Your VW Atlas Maintenance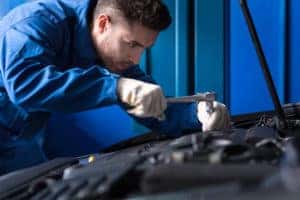 No two drivers are the same. Depending on your driving habits and personal style, you might need to adjust your vehicle's maintenance schedule to fit your specific needs.
To make things simple, turn to our team of friendly service professionals. Our VW-certified technicians can help create a personalized schedule and even send reminders when your vehicle's due for an appointment.
For the sake of convenience, it's best to divide your maintenance into mileage intervals. Each interval correlates to the type of service you should plan on having completed. Remember: these tasks should be done each time your vehicle adds that specific mileage to the odometer.
Every 5,000 to 10,000 Miles
During these appointments, you'll want to have your engine oil and filter replaced. You also should have each of your vehicle's tires rotated and inspected for signs of wear.
While your VW Atlas is on the lift, the technician will also inspect its brakes, exterior bulbs, and fill all the fluids.
Every 15,000 to 30,000 Miles
Once your vehicle reaches 15,000 miles, you'll want to repeat the maintenance we mentioned above as well as have your cabin and engine air filters replaced.
Additionally, you should plan to have your vehicle's transmission flushed and replaced with fresh fluid. This is especially important If you regularly tow heavy loads or make regular trips through the mountains.
Every 40,000 to 60,000 Miles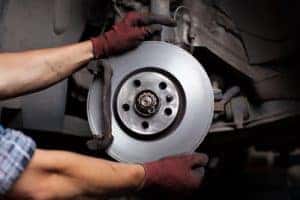 At this stage, you'll want to start paying close attention to the health of your vehicle's tires and braking system.
Their lifespan will depend heavily on your driving style and the types of roads you typically travel. For example, someone who drives through heavy city traffic might need to replace their tires and brakes sooner.
If you've been keeping up with regular tire rotations, our techs should be able to give you an estimate as to when each brake component may need to be replaced. These parts include:
Brake pads
Brake lines and hoses
Rotors
Calipers
Every 75,000 to 100,000 Miles
Timing belts, spark plugs, and hoses all need to be inspected and replaced at this point as well as your SUV's battery system. A full diagnostics test can also help you detect any hidden issues occurring below the surface.
We hope that you find our VW Atlas maintenance schedule to be a handy guide. If you realize that your SUV is due for a little TLC, call, stop by, or go online to schedule an appointment today.
At McDonald Volkswagen, our service center provides expert care to get you back on the roads Parker, Littleton, and Castle Rock in no time!